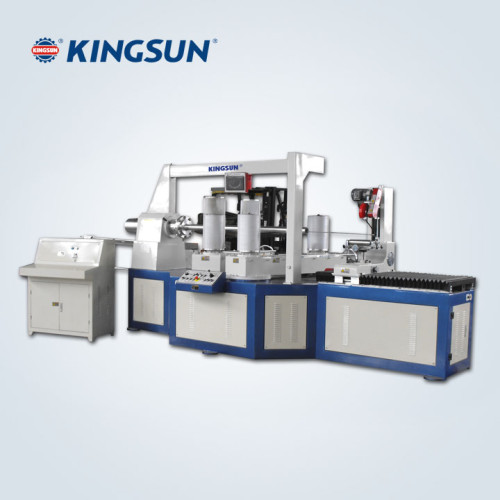 Paper Tube Winding Machine KSNC Series
Description
Paper Tube Winding Machine KSNC Series
Features
1.Adopting imported PLC logic control system and single electricity control box, the speed of mainframe is adjusted by transducer which can save 30% electricity than by common electromagnetic.
2.The control circuit adopts integrated mother with insert and pull terminal connection, every terminal has function instruction. It is more intuitional, convenient and scientific to be used, repaired and preserved.
3.Adopting imported color touch-screen5.7",graph operating system, leading interface designs and several kinds of functions tentacles controllable, so as to easy to operate, automatic to memory and reserve, automatic to alarm and so on.
4.This machine is equipped with the most advance CNC computer digital control system and SMS synchronized follow cutting system.
5.Adopting single bound blade to cut and all digital control drive blade (without driving by cylinder) to make cutting location much precise, so that improves incision smoothness without cutting again or waste.
6.It's surpass silence design (national patent), tight convey frame, high efficiency, low maintain.
7.Adopting two-side gluing, single stainless glue slot, imported polyurethane drawknife, the intensity of paper core that produce by this machine id better than single face traditional machine.
8.The belt angle and machine angle are controlled by motor, swing angle set up on touch screen.
9.It has the long-distance control function and is equipped with our factory special communication tools and monitor software. Users can use computer to monitor the condition of machine running at office or other place.
Main Specifications
| | |
| --- | --- |
| Model | KSNC-64200 |
| Inside diameter | 25-300mm |
| Wall thickness | 1-15mm |
| Cutting length | 1-4M |
| Speed | 3-20M/Min |
| Main motor | 15kw |
| Speed of adjust and control | transducer |
| Cutting way | Circular knife or saw cutting |
| Fixed length way | Infrared |
| Overall size | 5M×2.55M×2.2M |